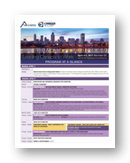 Conference Program
MONDAY, APRIL 3, 2017

Exhibit Move In

6:30 pm

KICK-OFF PARTY (Registration Required) - AUBERGE SAINT-GABRIEL: A testament to Montreal's history, Auberge Saint-Gabriel was built in 1688 by a french soldier and was the first "auberge" in North America to receive a licquor licence in 1754! Renowned for its Quebec cuisine, the Auberge is home to one of the trendiest spots in Old Montreal.

TUESDAY, APRIL 4, 2017

7:30 am -8:45 am

REGISTRATION AND CONTINENTAL BREAKFAST WITH EXHIBITORS

8:45 am

OPENING CEREMONIES

9:00 am - 10:15 am

PLENARY SESSION – THE EVOLUTION OF TALENT: A VISION FOR THE FUTURE.
Bryan Peña, Senior Vice-President, Contingent Workforce Strategies at Staffing Industry Analysts

In an age of accelerated change, sourcing talent has become increasingly complex, exciting and innovative. Focusing on the transformation and disruptions shaping the world of work, Bryan Peña will explore the complexities and developments underscoring the evolution of workforce solutions. His presentation will include the rise of the global gig economy, A.I. and automation, the advancement of total talent management and the talent-based decisions that are redefining how work is getting done.

10:15 am

BREAK WITH EXHIBITORS

11:00 am - 12 Noon

PLENARY SESSION – 1500 SOFTWARE COMPANIES WORKING ON TECH RECRUITMENT. THE OPPORTUNITIES & THE THREATS.
Brian Delle Donne, President of Talent Tech Labs - Jonathan Kestenbaum, Managing Director, Talent Tech Labs

Software innovation in our industry is exploding, offering both opportunities and threats that we will all need to understand. Brian Delle Donne, as CEO of Talent Tech Labs, and a long-time practitioner in our industry, understands this world. His presentation will demystify the changes occurring and will identify real actionable opportunities to position our companies for continued success.

Noon to 1:30 pm

LUNCH WITH EXHIBITORS

1:30 pm - 2:30 pm

PLENARY SESSION – HOW TO SUCCEED IN THE GIG ECONOMY.
Eric Gilpin, Senior Vice-President, Sales at Upwork - Geoff Kereluik, CEO, Curasion - Jeff Nugent, Managing Director, Contingent Workforce Solutions and ACSESS National Director, Moderator

What Are the Tactical Implications for Your Company? Taking the fear out of yet another emerging trend in our industry, panelists will add context to market statistics and will talk about online staffing platforms and the online ability to procure work. This session will define the Gig Economy, where it's going, how technology is changing the traditional staffing model, how to use online opportunities as a revenue generator, the use of technology to source talent, and more.

We can expect that early adopters will capitalize and take advantage of new technology and client self service models. This can be you!

2:30 pm

BREAK WITH EXHIBITORS

3:00 pm - 4:00 pm

CONCURRENT SESSION
SEVEN TRAITS OF PEAK PERFORMANCE
Steve Jones CPC, Steve Jones Business Leadership Corp.

Extraordinary things happen when we select the right people and then manage and lead according to their unique personalities.

In this entertaining and educational presentation, Steve will demonstrate how peak desk performance is influenced by seven predominant personality traits that drive predicable behaviours. Pre-registered participants will complete a confidential on-line behavioural survey in advance of the conference and will receive their own professional profile report during this plenary session. With your personal report in-hand, Steve will transform behavioural theory into staffing industry reality. Presented in a style and language that we all understand, you'll leave with practical tools and tactics to help you manage and achieve peak desk performance.

CONCURRENT SESSION
WHAT OUR CLIENTS ARE LOOKING FOR
Christopher Minnick, Co-founder & Executive Vice-President, Brightfield Strategies

The way the world works is changing and fast. Customer expectations have evolved over time, but never as rapidly as they have in the past couple of years. In this session you'll learn three areas where your customers likely have new expectations about how your company will provide greater value to them.

4:10 pm - 5:15 pm

PLENARY SESSION – LOYALTY UNPLUGGED: HOW TO GET, KEEP & GROW ALL FOUR GENERATIONS.
Giselle Kovary, Human Resources Expert specializing in generational diversity and how to build strategies to target, motivate and engage employees of every generation.

6:30 pm - 9:30 pm

CASUAL DINNER & ENTERTAINMENT (ONSITE)

WEDNESDAY, APRIL 5, 2017

7:45 am - 9:00 am

BREAKFAST WITH EXHIBITORS

8:00 am - 8:30 am

ANNUAL GENERAL MEETING - ACSESS VOTING MEMBERS ONLY

8:40 am - 9:30 am

PLENARY SESSION – INTERACTING WITH INFLUENCE: Skills, Tactics & Behaviours to Build Trust, Deepen Relationships & Gain Commitment.

Keynote Speaker Heath Slawner will show industry leaders how to leverage proven strategies to strengthen relationships, drive performance, and achieve outstanding results

9:35 am - 10:35 am

CONCURRENT SESSION
TALENT STRATEGY WORKSHOP:
Real World Ideas on How to Utilize Data to Drive Your Staffing Firm's Strategy

As leader of CareerBuilder Canada, Ryan Lazar will address the challenges of recruiting skilled talent in the very competitive Canadian job market. The session will provide a deeper dive into how attendees can utilize recruitment data to their advantage, and to help clients find the best talent. Sample data packets will facilitate discussion and an interactive experience with industry peers. Material provided will include data for toronto, Montreal, Ottawa and Waterloo.

CONCURRENT SESSION
CREATIVITY - YOUR CRAZY COMPETITIVE SALES ADVANTAGE

Sheila Musgrove, founder and owner of TAG Recruitment Group in Calgary, and international best-selling author of Hired! will share how to tap into your creativity to make your marketing a knock out. She'll share: How she got her book into the hands of the Prime Minister & Sophie and getting on the World's Best Mayor's calendar. A great lesson on being bold in your business and asking for things...and how that lesson translated into getting the attention of celebrities and executives who JUMPED to give golden interviews for her book, landing speaking gigs & national media attention. And, who knew that a newsletter can be a powerful marketing and money making machine? You'll leave this session having chuckled at least once and you'll have some GREAT ideas to jazz up your marketing.

10:35 am - 11:15 am

BREAK WITH EXHIBITORS

11:15 am - 12:15 pm

CONCURRENT SESSION
LEGAL PANEL: Landmines To Be Aware Of
(English Language)

Moderated by Mary McIninch, LL.B., Executive Director, Government Relations/Directrice Generale, ACSESS

Paul Broad, Lawyer, Hicks Morley

CONCURRENT SESSION
LEGAL PANEL (French Language)

Moderated by Marc-Andre Robert, CRIA, Founding Associate, Global Human Resources and President ACSESS Quebec Chapter

Rhéaume Perreault, Partner, Fasken Martineau DuMoulin

12:30 pm - 3:00 pm

AWARDS LUNCHEON & Closing Keynote Speaker MIKE LIPKIN, President of Environics/Lipkin, the motivational and sales empowerment practice at Environics Research Group

CREATE YOUR 2020 VISION THROUGH THE ULTIMATE QUESTION…
What do you need to do today to thrive in three years time? If you are where you want to be today, it's because of what you did three years ago… If you aren't, it's because of what you didn't do....We can't change our past, but we can totally create our future... Today isn't just one day, it's day One!
Keynote Speakers
---
Giselle Kovary - Keynote Speaker
Human Resources Expert Specializing in Generational Diversity
As president and co-founder of n-gen People Performance Inc., Giselle is dedicated to building strategies and programs that help clients target, motivate and engage employees in order to increase performance and productivity. She is a sought after resource to industry leaders, having worked with 18 of the top Fortune 500 companies across North America. With over 18 years of experience in learning and development, she has devoted more than a dozen years to researching the impact that generational differences have on organizational performance.
Giselle has created solutions and programs that focus on five practice areas – sales & customer service, leadership, team building, Gen Y and HR and has co-authored two books: Loyalty Unplugged: How to Get, Keep & Grow All Four Generations and Upgrade Now: 9 Advanced Leadership Skills. As a human resources expert, Giselle is regularly quoted in national publications and appears on television and radio.
---
Mike Lipkin - Keynote Speaker
President of Environics/Lipkin, the motivation and sales empowerment practice of Environics Research Group
President of Environics/Lipkin, a global research and motivation company based in Toronto, Mike is also an international strategic coach, facilitator and catalyst for high performance, and the author of 9 best selling books on personal leadership and effectiveness.
Mike's mission is to help you and your team achieve preeminence – that's where you become the benchmark by which all others are judged. It's where you play at such a level that you set the standard for your industry or category. It is achievable. In fact, it's necessary. If we're not defining the standard, then someone else is and they are going to enjoy the rewards of being the best. Either we become the best, or we become irrelevant. There is no middle ground! These are extreme times. We're all being subjected to extraordinary stress and scrutiny by everyone around us – our colleagues, our clients, and our communities. Good enough isn't good enough any more. Even great may not be good enough.
---
Bryan Peña - Keynote Speaker
Senior Vice-President, Contingent Workforce Strategies at Staffing Industry Analysts
As Staffing Industry Analysts' Senior Vice President, Contingent Workforce Strategies, Bryan Peña is internationally recognized as the expert on contingent workforce management strategies and tactics. He manages the unique needs of the CWS Council globally, helping companies deploy cutting-edge strategies for managing their contingent talent and workforce programs. Peña's specific expertise comes from over a decade of strategic sourcing in Fortune 500 companies and includes services pricing and negotiation strategies, contract construction, risk management, and international MSP and VMS program delivery models.
---
Heath Slawner - Keynote Speaker
Professional Speaker
As a professional speaker since 2008, Heath has delivered over 200 keynotes for some of Canada's most iconic brands such as Canadian Tire, CN, Loblaw, McDonalds, RBC, and Rogers, as well as the United Nations and its affiliated agencies around the world.
Helping leaders bring teams together to achieve extraordinary results, Heath shows audiences that trust and purpose – based on a genuine concern for others – are what's at the centre of it all. He addresses how to consistently and effectively get people to listen, follow, buy-in, and take the next step. When we are clear about why we're here, where we're going, who we serve and how we're getting there, everyone will start to feel valued and work together to bring bold visions to reality.
---
Conference Speakers
Paul Broad
Lawyer, Hicks Morley
Paul Broad is an experienced labour and employment lawyer practising out of Hicks Morley's London office. He has a general labour and employment practice, and works with a variety of employers in both the public and private sectors in a broad range of areas including employment standards, privacy and information management, labour relations, human rights and accessibility-related issues. His practice includes advising temporary help agencies.
In addition to providing practical day-to-day advice to clients, Paul assists with complex compliance initiatives – particularly focusing on employment standards compliance. He has significant experience advising on the employment and labour aspects of corporate transactions for both purchasers and vendors.
Paul's privacy and information management practice includes advising clients on compliance issues, policy development, and assistance with appeals of access decisions under freedom of information legislation. He has worked with a variety of clients to achieve compliance with Canada's Anti-Spam Legislation (CASL), including assisting with internal audits of electronic communications practices and policy development. Paul also regularly advises on accessibility-related issues and the application of the AODA to Ontario organizations.
---
Brian Delle Donne
President, Talent Tech Labs
Brian has been a leading force driving innovation through his career in operating roles in the staffing industry. Since serving as Chief Operating Officer at both large public and privately held staffing and project firms he has amassed a wealth of insight into effectively applying innovation. Talent Tech Labs is entirely focused on promoting technological developments in the field of Talent Acquisition. At Talent Tech Labs Brian and his team have been identifying and then assisting emerging companies with breakthrough ideas and opportunities available through the advancement of recruitment technology. TTL provides its insights to both the staffing industry as well as corporate talent acquisition executives who are buyers of new technology. Always seeking ways to improve processes in talent acquisition, Brian has guided Talent Tech Labs as a unique incubator, and importantly has elevated the company to a leading authority on emerging technology addressing talent acquisition.
---
Eric Gilpin
Senior Vice President, Sales
Eric leads the sales team at Upwork, where he oversees the company's global sales operations, including enterprise sales, sales engineering, channel development and client success. Prior to joining Upwork, he was at CareerBuilder for 15 years, where he most recently led the Vertical Sales Group and was responsible for generating over $200 million in global revenue.
Eric holds an MBA from Southern Methodist University's Cox School of Business.
---
Steve Jones
President, Steve Jones Business Leadership Corp
One of the most recognized names in Canadian staffing, Steve Jones offers training, coaching and consulting in the areas of leadership, management, sales, marketing, strategic planning, recruitment and process improvement. Steve is President of ".", and is also a multiple franchise owner of Qualicare Home Care, owner of Socialite Internet Marketing and sits on several corporate and charity boards.
---
Geoff Kereluik
CEO, Curasion
Geoff Kereluik CEO of Curasion (a Canadian online talent pooling technology) - Curasion is leading the Enterprise freelance human cloud market place in the GIG economy. A market place that enables Enterprises with private, pre-curated, high caliber, contingent workers on demand. This enables rapid execution of your business priorities, while reducing your operating costs.
---
Jonathan Kestenbaum
Managing Director, Talent Tech Labs
Jonathan Kestenbaum is the managing director of Talent Tech Labs. Talent Tech Labs was originally founded to foster the growth and development of emerging ideas and companies in the talent acquisition technology space. An entrepreneur at heart, Jonathan spends his days building and advising the technology companies of tomorrow.
---
Ryan Lazar
Managing Director, Careerbuilder Canada
As leader of CareerBuilder Canada, Ryan is responsible for business development, marketing and site performance in Canada. Ryan is an expert in helping organizations across North America develop a more efficient recruitment process, through automation, while creating a better candidate experience. Ryan has been with CareerBuilder for five years.
---
Mary McIninch, B.A., LLB
ACSESS Executive Director, Government Relations
Mary holds an LL.B and Bachelor of Arts Degree (Honours in Political Science) from the Universities of Ottawa and McGill respectively, and is a member of the Quebec Bar Association. Mary joined ACSESS in 2000 where she works closely with staff and elected leaders in the development of ACSESS as an industry association, and in providing comprehensive government relations services representing the industry across Canada.
---
Christopher Minnick
Co-founder & Executive Vice President, Brightfield
As Brightfield's co-founder and executive vice president, Christopher is responsible for sales and marketing and corporate affairs. He also leads the company's Governance, Risk and Compliance practice where he advises clients on how best to create global governance models, understand co-employment risks and develop a wide-range of compliance programs. A frequent contributor to industry publications and much requested presenter, Christopher speaks with contingent management professionals througout North America and Western Europe on a variety of workforce–related topics from contingent workforce program assessments to the misclassification of workers.
---
Sheila Musgrove
TAG Recruitment
Sheila started TAG Recruitment in 2005 with an IKEA desk, bargain website, and a computer monitor as big as a fish tank. TAG has since grown into a thriving multi-million dollar organization with a strong reputation for finding stellar talent. Sheila has received numerous professional awards including repeat appearances on Profit and Chatelaine's ranking of Canada's Top 100 Women Entrepreneurs, and recognition by Red Deer College as their 2016 Distinguished Alumnus of the Year.
As she continues to run a very successful business in an uber funky office, as well as actively participating in ACSESS, Sheila has also branched out as an author. Her first booked Hired! How to Get the Zippy Gif. Insider Secrets from a Top Recruiter! hit theAmazon Best-Seller lists in both Canadand the USA wihtin the first 24 hours of being released.
---
Rhéaume Perreault
Partner, Fasken Martineau DuMoulin
A partner at Fasken Martineau DuMoulin's Montréal office, Rhéaume focuses his practice on labour and employment law.
He acts as a strategic adviser for many employers in small, medium and large-sized enterprises, helping them with the planning and reorganization of their human resources. He also frequently acts as a negotiator in connection with collective bargaining agreements and represents clients, in particular, before the Superior Court, the Quebec Court of Appeal and various administrative tribunals.
Rhéaume works with employers from the private and public sectors, as well as with non-profit organizations, and has provided professional advice to ACSESS on a number of industry files. He frequently takes part in specialized conferences and provides substantial corporate training on a variety of topics including: the workplace in the social media age; pre-employment traps; the duty to accommodate; is drug and alcohol screening possible? privacy laws in the private and public sectors; and drafting employment contracts: how to avoid the pitfalls.
---
Marc-André Robert, CRIA
Lecturer in Employment Law, Faculty of Legal Sciences, Université du Québec à Montréal
Marc-Andre holds a Law degree from the Université de Montréal, and was called to the Quebec Bar in December 1999. He also holds a Bachelor's degree in Industrial Relations and practiced labour and employment law in major national law firms before going into the business world. He has held many positions in human resources, notably as Vice-President of Human Resources and Legal Affairs at a well-known multinational company. He was also President of a human resources management and labour relations consulting firm before founding Global Human Resources with Richard Dufour. In addition to acting as Lecturer in Employment Law in the Faculty of Legal Sciences at the Université du Québec à Montréal (UQAM), Mr. Robert sits on the Disciplinary Revision Committee of the Ordre des conseillers en ressources humaines agréés du Québec. Mr. Robert is President of the Quebec chapter of ACSESS, and is regularly invited to give speeches on various aspects of labour relations and human resources management.
Our Sponsors / nos commanditaires
Delegate Bags

Name Badge Pouch

Registration Desk

Tuesday Luncheon

Networking Receptions

Awards Luncheon Sponsor

Breakfast Sponsor

Corporate Sponsor

Corporate Sponsor

Corporate Sponsor

Corporate Sponsor

Corporate Sponsor

Corporate Sponsor

Corporate Sponsor
---